Women's Colothing Industry with Great Potentiality for Growth
23-06-2022
In recent years, women's clothing industry has faced the pressure of transformation, especially due to the impact of the CONVID19 pandemic, which has led to a decline in the demand for women's clothing industry. However, due to the huge clothing consumption market in China, and the improvement of women's education level year by year in recent years, the chances of obtaining good jobs have greatly increased, which directly promotes the increase of women's income, and indirectly stimulates women's ability of purchasing power of high-end brands clothes. People's clothing consumption is still growing.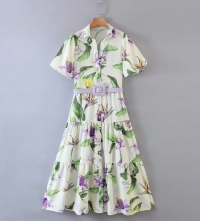 According to the National Bureau of Statistics, in 2021, the total retail sales of clothing, shoes, hats, and knitted textiles will reach 1,384.2 billion yuan, a year-on-year increase of 12.7%. It is estimated that the total retail sales of clothing, shoes, hats, and knitted textiles will reach 1,447.9 billion yuan in 2022. Driven by consumption upgrades, it is expected that by 2023, the proportion of mid-to-high-end women's clothing retail sales will increase to 23.4%. It can be seen that there is still space for improvement in opening high-end brand women's clothing stores.
In addition, due to the repeated impact of the epidemic in many places on retail market sales, the sales of clothing companies have fluctuated significantly. However, from the perspective of market analysis, some big brand women's clothing companies still have obvious advantages. With the ease of the epidemic and the gradual release of lockdowns in many places, it is expected that the clothing retail side is expected to improve in June.
Our company produces and sells high-end brand customized hangers, which sell well and become popular both at home and abroad.